Penicillin G, also known as benzylpenicillin, is a narrow-spectrum beta-lactam from the penicillin family. Today, even after more than 90 years since its discovery, it remains a valuable tool to combat bacterial infections, both in human and veterinary medicine.
But why do they put some names at the end of each presentation? Are they really meaning the same drug? Let us explain it to you in detail in the next post.
Types of Penicillin-G
There are several polymorphs of Penicillin-G but only 4 of those that occur are of clinical relevance:
Sodium
Potassium
Benzathine
Procaine
To maintain its stability and biological activity, Penicillin G must be preserved crystallized in the form of salts so as not to hydrolyze. Those names associated with each presentation are the clarification of the salt formed at the end of preparing the product.
Yes, it's the same active compound
The mechanism of action in each of these polymorphs is maintained as they bind irreversibly with penicillin-binding proteins (PBP), bacterial enzymes found in the cell wall. This binding prevents susceptible bacteria from synthesizing or repairing their cell wall and consequently make them die.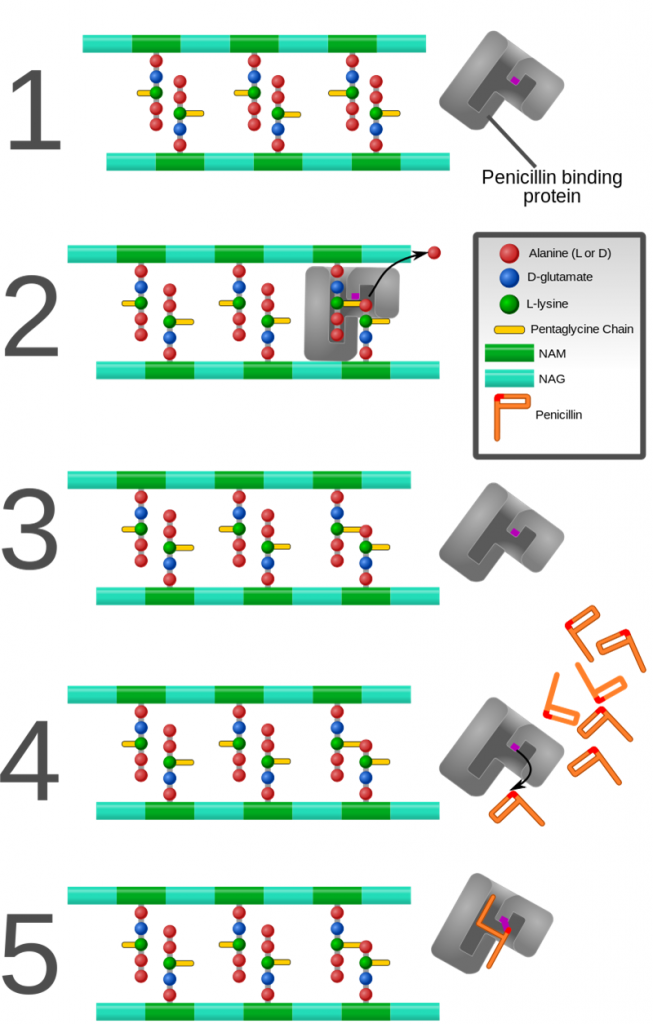 How is each of these salts different?
If the mechanism of action is the same, what differentiates them? Their final solubility. This means that by associating a salt with a drug we are going to alter its pharmacokinetics and consequently the appropriate way to apply and dose.
In its natural form (benzylpenicillinic acid), Penicillin G is very poorly soluble and easily hydrolyzed but, when associated with sodium or potassium salts, for example, we will obtain a presentation with much greater solubility that can be absorbed more easily. This will facilitate it to reach therapeutic levels more quickly than in its less soluble forms.
These polymorphs are the only forms of penicillins G that can be administered intravenously, which makes them active for use in intra-hospital settings, when there is a possibility of keeping the patient channeled or an attack dose is required.
Unfortunately, the time-dependent nature of penicillins means that concentrations above the minimum inhibitory concentration (MIC) are required in the target tissue for at least 30 to 70% of the interval between dosages.
Characteristics:
Benzathine Penicillin G
The least soluble but the most stable, its absorption rate is even lower than that of benzylpenicillinic acid thanks to its binding to a diamine called benzathine. It is the form of choice when a long-term treatment is required without many injections.
Penicillin G sodium
It stands out for its ease of dissolving in water and dextrose solutions. As we mentioned before, together with Penicillin G potassium they are the only presentations available for intravenous use. Its elimination rate in the body is also lower.
Procaine penicillin G
This compound includes a local anesthetic (procaine) and dissipates some of the pain at the injection site. Its pharmacokinetics make it suitable for daily dosing treatments.
Penicillin G potassium
Its profile is quite similar to that of Penicillin G sodium but it is possible to find solutions suitable for oral consumption since the potassium salts improve the tolerance of penicillin to the acidic pH of the stomach.
Summary of Features:
| | | | | |
| --- | --- | --- | --- | --- |
| Salt | Características | Vías de administración | Absorción | Duración |
| Benzathine | Greater general stability, very little soluble in water and little soluble in alcohol. | IM | Lenta | Prolonged |
| Potassium | Stable in suspension for several days at <15 ° C, it is inactivated against acids, alkaline hydroxides, glycerin and oxidizing agents. Very soluble in water, saline and dextrose solutions. Slightly soluble in alcohol. | PO, IV, IM, SC | Fast | Short |
| Procaine | Stable in air, it is inactive against acids, alkaline hydroxides and oxidizing agents. Slightly soluble in water, soluble in alcohol and chloroform. | IM, SC | Medium | Media |
| Sodium | Relatively stable in air, it is inactivated against alkali hydroxides and oxidizing agents. Very soluble in water, saline and dextrose solutions. Slightly soluble in alcohol. It is preserved for up to 24 hours after reconstitution at room temperature. | IV, IM, SC | Fast | Short |
Own elaboration.
The case of Penicillin G is just one example of the variety of presentations that the same active principle can take and that, thanks to slight modifications, can offer us different therapeutic schemes.
In our catalog you will find different presentations and even new antibacterial associations that will help you expand your therapeutic options.
¿Was this article useful? Share it on your social media and let us know in the comments. Don't forget to subscribe to our newsletter. Until a new opportunity!
References
American Academy of Veterinary Pharmacology and Therapeutics (AAVPT). Penicillin G (Veterinary—Systemic) Disponible en: www.aavpt.org/resource/resmgr/imported/penicillinG.pdf
Papich, M. G. (2016). Penicillin G. Saunders Handbook of Veterinary Drugs, 613–616. doi:10.1016/b978-0-323-24485-5.00443-5
Davis, J. L. (2018). Pharmacologic Principles. Equine Internal Medicine, 79–137. doi:10.1016/b978-0-323-44329-6.00002-4
Ranheim, B., Ween, H., Egeli, A. K., Hormazabal, V., Yndestad, M., & Søli, N. E. (2002). Veterinary Research Communications, 26(6), 459–465. doi:10.1023/a:1020590408947