In our last PetTalks Pro, Dr. Gianmarco Rojas Moreno spoke about the management of induction, maintenance and recovery of the anesthetized patient in the companion animal clinic. A subject, undoubtedly, delicate that must be approached thinking about the needs of our patients and the comfort of the veterinarians in charge of the intervention.
Key ideas and take-home messages:
Anesthetic management is complex and must be adapted to each situation, it is not advisable to follow the "One fits all" approach.
Synergy between drugs increases the safety of anesthesia by reducing the doses of each drug required.
Total intravenous anesthesia (TIVA) is an efficient and highly advantageous technique for our patients.
The versatility of propofol allows it to be used as an inducing agent in a wide variety of protocols, even in complicated patients.
Monitoring of the anesthetized patient should be continuous and maintained until the patient wakes up.
Initial considerations
The main objectives of anesthesia are: sedation, immobilization, muscle relaxation, analgesia and neurovegetative protection. In this sense, the first recommendation that our guest leaves was to pay special attention to triage. Moment in which we will define the pre-existing conditions and current state of our patients.
Dr. Rojas urges us not to initiate major anesthetic procedures before ensuring adequate management of the blood and its components in order to have a venous access route to control blood volume, pH, and electrolyte imbalance; It also suggests a series of basic initial questions such as:
What species are we going to anesthetize?
Where will the anesthesia be performed?
Why and for what is the animal going to be anesthetized?
Are the appropriate equipment and instruments available?
Is there someone on the team with experience in anesthetic monitoring?
Choice of anesthetic protocol
After defining the case, we proceed to choose the anesthetic protocol that best suits the current conditions. Among the pre-anesthetic drugs that the Dr. spoke about, we had:
Accepromazine: a good relaxant with anticholinergic and antiarrhythmic effect that, due to its hypotensive effect, is restricted to healthy patients.
Diazepam and midazolam: substances from the benzodiazepine family, which increase the activity of gamma-aminobutyric acid (GABA) and exert an anxiolytic and anticonvulsant effect.
Xylazine and dexmedetomidine: alpha-2 adrenergic agonists that have the ability to dramatically reduce the required propofol dose (by up to 50%).
Butorphanol: an opioid that, despite not having a powerful analgesic effect, has proven to be very useful in critically ill patients.
Patient induction
Regards inducing agents, the talk focused on the use of propofol, an anesthetic associated with immobilization with loss of consciousness that produces rapid sedation and can be used alone or in conjunction with other drugs. As a single agent, it is useful for the management of patients during short interventions that do not involve tissue damage, as a combined agent it is a safe dose-dependent depth anesthetic in patients with hypertension-associated heart disease that allows rapid recovery regardless of the pre-anesthetic medication used. .
For the maintenance of anesthesia, the TIVA approach is probably one of the most effective and beneficial options for our patients. This approach consists of the administration of different drugs in intravenous infusions according to the physiological constants of the patient. Different protocols were discussed so here is a summary table.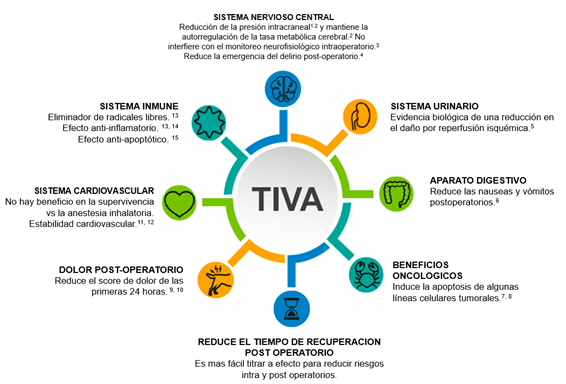 After induction, it is important to maintain careful monitoring of intravenous anesthesia in order to detect and correct any alteration in vital functions in order to ensure patient homeostasis. A good practice in anesthesiology is to follow at least the ASA (American Association of Anesthesiologists) standards for basic anesthetic monitoring, that is:
Keep qualified anesthesia personnel in the room during the course of all general and regional anesthesia and for the care of monitored anesthesia.
Continuously assess the:

Oxygenation: By examining the mucosa, pulse oximetry, inspired gas analyzer, hemogasometry (requires sampling of arterial blood)
Ventilation: Observing the chest excursion and the reserve bag, auscultating the patient or using capnometry and capnography equipment.
Circulation: Through a continuous electrocardiogram, the evaluation of the heart rate, blood pressure, cardiac auscultation, pulse palpation and plethysmograms, pulse oximetries and the tracing of intra-arterial pressure
Temperature: Checking the thermometers.
Finally, the conclusion of our anesthesia occurs as soon as the patient wakes up, so we must ensure that we provide good recovery conditions so that the process is as bearable as possible. It is advisable to take our patients in a warm, dark and silent environment while their temperature is monitored and we can monitor them in the event of resedation symptoms.
Final considerations
Let us not forget that if the patient underwent surgery, we must provide correct postoperative analgesia and inform the owners about the care they should maintain until a new consultation.
Hoping that this information has been useful to you, we leave you until a new opportunity and we invite you to listen to the full talk available at this link.
Síguenos en nuestras redes y no te pierdas las novedades que hemos preparado para ti.
Bibliographic references
Artru A, Shapira Y, Bowdle T. 1992. Electroencephalogram, cerebral metabolic, and vascular responses to propofol anesthesia in dogs. Journal of Neurosurgical Anesthesiology.4(2):99-109.
Bugedo, G., Santis, C. 2019. Intracranial hypertension and deep sedation. Crit Care 23, 342.
Chen, Z. 2004. The effects of isoflurane and propofol on intraoperative neurophysiological monitoring during spinal surgery. J Clin Monit Comput 18, 303–308.
Kristine E. Brown, Aibek E. Mirrakhimov, Kalpana Yeddula, Madan M. Kwatra. 2013. Propofol and the risk of delirium: Exploring the anticholinergic properties of propofol, Medical Hypotheses, 81(4), 536-539.
Wang Y., Qi X., Wang C., Zhao D., Wang, H., Zhang J. 2017. Effects of propofol on myocardial ischemia-reperfusion injury in rats with type-2 diabetes mellitus. Biomedical reports, 6(1), 69–74.
Joo Gan. 2013. Propofol for the Management of Postoperative Nausea and Vomiting (PONV). Tesis Doctoral. Universidad de Londres.
Wang H, Jiao H, Jiang Z, Chen R. 2020. Propofol inhibits migration and induces apoptosis of pancreatic cancer PANC-1 cells through miR-34a-mediated E-cadherin and LOC285194 signals, Bioengineered, 11:1, 510-521.
Hao Wang Lidong Zhao Jing Wu Jiang Hong Songpo Wang. 2020. Propofol induces ROS‑mediated intrinsic apoptosis and migration in triple‑negative breast cancer cells. OncologyLetters. July-2020. Volume 20. Issue 1.
Yi-Chin TSAI, Liang-Yi WANG, Lih-Seng YEH. 2007. Clinical Comparison of Recovery from Total Intravenous Anesthesia with Propofol and Inhalation Anesthesia with Isoflurane in Dogs. Journal of Veterinary Medical Science, 69,11.
Ortiz J, Chang Lee C., Tolpin, Daniel A., Minard, Charles G., Scott, Bradford G., & Rivers, Jose M.. (2014). Randomized, controlled trial comparing the effects of anesthesia with propofol, isoflurane, desflurane and sevoflurane on pain after laparoscopic cholecystectomy. Revista Brasileira de Anestesiologia, 64(3), 145-151.
Cattai, A., Rabozzi, R., Ferasin, H. et al. (2018). Haemodynamic changes during propofol induction in dogs: new findings and approach of monitoring. BMC Vet Res 14, 282.
Lea Liehmann, Martina Mosing, Ulrike Auer. 2006. A comparison of cardiorespiratory variables during isoflurane–fentanyl and propofol–fentanyl anaesthesia for surgery in injured cats, Veterinary Anaesthesia and Analgesia, Volume 33, Issue 3. Pages 158-168.
Yoon, J. Y., Jeon, H. O., Kim, E. J., Kim, C. H., Yoon, J. U., Park, B. S., Yu, S. B., & Kwak, J. W. (2017). Propofol protects human keratinocytes from oxidative stress via autophagy expression. Journal of dental anesthesia and pain medicine, 17(1), 21–28.
Roh, G.U., Song, Y., Park, J. et al. Effects of propofol on the inflammatory response during robot-assisted laparoscopic radical prostatectomy: a prospective randomized controlled study. Sci Rep 9, 5242 (2019).
Liu, XR., Cao, L., Li, T. et al. Propofol attenuates H2O2-induced oxidative stress and apoptosis via the mitochondria- and ER-medicated pathways in neonatal rat cardiomyocytes. Apoptosis22, 639–646 (2017).